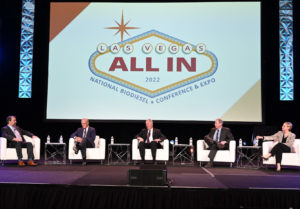 Moderated by National Biodiesel Board's Kurt Kovarik, a group of panelists discussed the history and potential future of the Renewable Fuels Standard at the 2022 National Biodiesel Conference and Expo.
Former Senator Byron Dorgan outlined the steps taken over the past nearly 30 years to bring alternative and renewable fuels including biodiesel to where they are today. He said the political environment has changed, but pressure from farm organizations and commodity groups will continue to be important to further grow the industry.
Former Congressman John Shimkus shared similar thoughts, noting that the current support for electric vehicles does not fully extend to rural America and he believes renewable fuels like biodiesel can continue to bridge that gap.
Eric Washburn with Windward Strategies noted that the original legislation that provided the Renewable Fuels Standard should have mandated more infrastructure, as that continues to be a challenge. Moving forward, he pointed to the local and cultural nature of politics and the fact that there is currently not a lot of Midwestern representation in the White House, which impacts energy policy.
Tara Billingsley with Massie Partners stressed the importance of understanding that the Renewable Fuels Standard was a bipartisan issue that helped to get energy legislation across the finish line and is the only place in federal law that requires greenhouse gas emission reductions. 2022 will see changes to the RFS, but many of those are already in place for biodiesel.
Listen to the entire panel discussion for more thoughts on where the RFS is headed and how that will impact the biodiesel industry. (56:35)