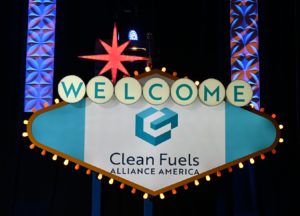 The National Biodiesel Board today unveiled its new name and new brand, Clean Fuels Alliance America, during the opening session of the 2022 National Biodiesel Conference & Expo. The transformation to Clean Fuels helps the industry represent all its industry members: biodiesel, renewable diesel and sustainable aviation fuels.
"Our industry has seen and will continue to see significant growth as the world around us focuses on clean energy," said Donnell Rehagen, CEO of Clean Fuels. "We are an integral part of the solution for sustainable energy that's not only affordable but also scalable and available now. Further, our new name and brand represents the connected energies of our members and positions our industry for a clean fuels future."

The National Biodiesel Conference & Expo's theme for 2022 is "All In" and represents the momentum being carried by all players in the biodiesel, renewable diesel, and sustainable aviation fuel industry. This year, more than 600 attendees are hearing from experts on supply and decarbonization and the opportunities ahead for the industry as a whole.
Listen to Donnell Rehagen, CEO, Clean Fuels Alliance America – Opening Speech
(24:22)