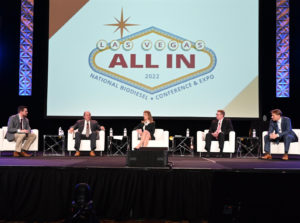 Biodiesel, renewable diesel and sustainable aviation fuel can work together to provide solutions for decarbonization.
A panel at the 2022 National Biodiesel Conference and Expo discussed ways the industry can begin to meet the needs of growing and expanding markets when it comes to reducing carbon. One key message was shared by Gary Louis of Seaboard Energy.
"We realize, as a food company, food is fuel. You cannot separate the two. The renewable fuels industry has brought more value to the food industry," said Louis. "If it's good for food, it's good for fuel."
Randall Stuewe of Darling Ingredient agreed.
"It's not food versus fuel; it's food and fuel. We can add value both from the food and the fuel side," said Stuewe.
The panelists shared the opinion that there is plenty of feedstock for this growing and changing industry to remain viable in helping to meet the goal of reducing carbon today and in the future. Listen to the entire discussion to hear more about these opportunities and challenges.
Moderator: Matt Herman, Clean Fuels Alliance America
Speakers: Randall Stuewe, Darling Ingredient; Cynthia Warner, REG; Gary Louis, Seaboard Energy; Gene Gebolys, World Energy (51:32)