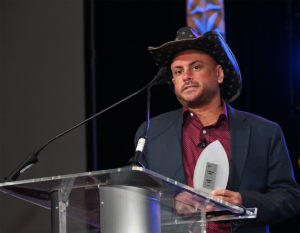 Mahanth Joishy's mission is to help the thriving city of Madison, Wisconsin, become one of the most sustainable cities in the world — with biodiesel at the heart of the effort. When Joishy became the city's fleet manager in 2017, one of his first acts was to switch the city's heavy-duty fleet — about 500 vehicles — to blends of biodiesel fuel. It is that passion that earned Joishy the Biodiesel Inspiration Award this year, presented at the 2022 National Biodiesel Conference.
Under Joishy's leadership, diesel vehicles, from fire trucks to parks department mowers to the all-important snowplows, now run on up to a 20% biodiesel blend (B20) most of the year. The city is even retrofitting 17 fleet service vehicles to run on 100% on biodiesel fuel (B100) year-round. Joishy's leadership and passion will continue to inspire other cities and fleets to expand their use of biodiesel fuel.
Joishy was also named a Biodiesel Ambassador just prior to the conference kickoff. Listen to his comments after receiving the Inspiration Award.
Recently retired as President and CEO of the North American Renderers Association, Nancy Foster was a significant influence in feedstock expansion for the biodiesel and renewable diesel industries. Her leadership within NARA has helped continue to grow and solidify biodiesel's sustainability messaging throughout the country and is the reason she was chosen for this year's Influencer Award.
Unfortunately, Foster was not able to attend the conference to receive her award in person but the industry would not have been the same without her voice in D.C. She also worked for the American Soybean Association as their chief lobbyist and director of ASA's Washington office — where she successfully gained Congressional passage of landmark legislation to establish the national soybean checkoff for research and promotion.